Searching "AC Repair Near Me" in Corona CA?
When it comes to cooling your home in the summertime, one of the most important systems is your air conditioning system. A functioning AC unit can keep you comfortable all day and night, keeping you from feeling sticky or gross indoors. However, if your AC unit starts making weird noises or not blowing cold air anymore, it may be time to find a reputable 24 Hour AC Repair Company. Emergency AC Repair is offered by most professional HVAC Companies.

When diagnosing and repairing AC in Corona CA, there are a few things that you'll need to know:
The make and model of your AC unit

The age of your AC unit

If you have central cooling or separate room AC units
Steady Air, Inc. strives to ensure that our customers feel safe and comfortable in their homes. We are available for same-day or next-day residential ac repair services. Our ac repair professional specialists arrive promptly and provide all pricing upfront before any work begins. Whether you need ac repair or replacement, Steady Air Inc. is here to complete the job on time and on budget! That is why we are the Trusted HVAC Company in Corona CA and nearby areas. See below for a complete list of California AC Repair locations.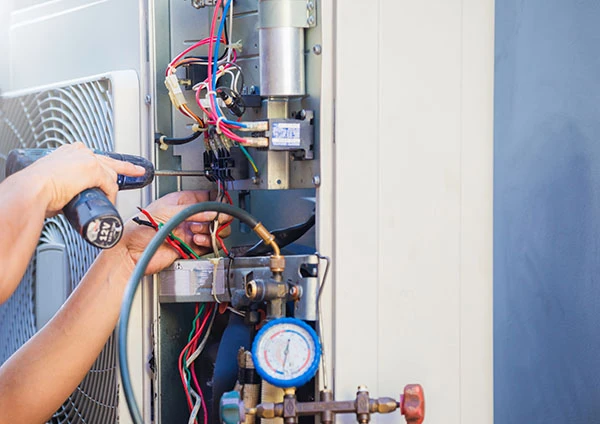 AC Repair Corona CA - Benefits
There are many benefits to having an AC repaired. First, it can save you money on your energy bill. Second, when your AC is working properly, it keeps you cooler in the summer and warmer in the winter. Third, having a functional AC can improve the air quality in your home. Finally, if your AC is not working properly, it can become extremely hot or cold inside your home, making it difficult to enjoy comfortable temperatures. 
It is crucial to take care of your air conditioner so it will work properly all year long. Preventive maintenance can be scheduled in the spring to reduce the chance of needing air conditioner repair during those hot summer months.
Normal wear and tear are inevitable with all mechanical devices. It is important to schedule ac services immediately so that the malfunctioning doesn't cause more damage. You increase the chance of having to replace the entire ac unit if you ignore the ac problem. We offer a 1-year labor and parts warranty on all repairs.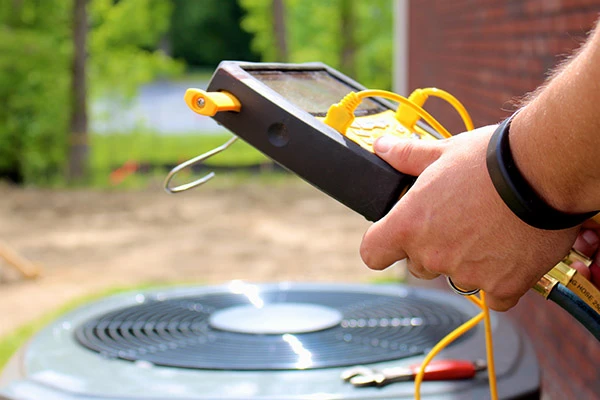 Why is Steady Air, Inc. the Best Choice for AC Repair?
We you're searching "AC Repair Near Me", you are most likely looking for a reputable  AC Repair Company. Steady Air, Inc. believes that our unrivaled dedication to customer service is what makes us the best choice. We will keep you informed until the ac services are complete. These are the reasons why our customers trust us to install and repair their heating and cooling systems.
Referrals from satisfied customers make up the majority of our business.
All service calls we make are covered by a 1-year, no-fee guarantee.
We take great pride in being the best contractors.
Our core values include quality, value and loyalty.
Our AC techs are able to repair all makes and models. We use only high-quality parts if your air conditioner needs replacement parts. We provide ac services that last and will only recommend a new unit when it is absolutely necessary in order to save you money down the road. Home Depot explains the age of your ac, the costs of recent repairs are important factors to consider when deciding if you will want a new system.
No matter the size of your system, we are able to help. We can answer your questions about the options and help you make informed decisions. Our technicians will fix your air conditioner, so it works like new. Call us today!
Corona, CA and Surrounding Area Homeowners
Air conditioners play a crucial role in keeping your family comfortable. Your family's wellbeing can be compromised if your air conditioner stops working. Steady Air, Inc. can help you restore your peace of mind.
Is your air conditioner making strange or loud noises? Are you getting foul odours coming from your air conditioner? Do not let a minor problem become a major concern. Steady Air, Inc. can help you schedule repairs in Corona and the surrounding areas.
Our Experience Speaks Volumes
Our furnace stopped working and with the cold weather coming and small kids in the home I needed someone who knew what they were doing. Rob was the technician who came to our house and he was courteous and professional. He was very informative and didn't mind me asking lots of questions. Overall, he was able to fix the issue and our furnace is working better than ever. Thanks Rob. Now we have a warm and comfortable home again.
Rob and his team have been amazing!! They have been so great to work with and we're able to work with our budget. I will only use them due to such a great start from the beginning!!
We had a power surge due to faulty Tesla equipment that blew out both of our ac units and thermostats attached to the units at which point we contacted Steady Air to take a look and help access and repair the damage. This tech who came out was well versed in dealing with what was going on diagnosed the problem and repaired it.
Rob was very professional and he was very attentive to when I had any questions . Always answered when I called and he is super reliable . Would recommend to anyone.
The Different Types of AC Repairs
There are a few different types of AC repairs that a homeowner can undergo, depending on the issue. A simple AC repair might just involve a tune-up or a new filter, while more serious repairs might require a complete replacement of the unit.
Here are the different types of AC repairs:
Tune-up: This is a common type of AC repair that involves just a tune-up. This means that the unit will be checked for any problems and any necessary repairs will be made.

Filter replacement: This is another common type of AC repair. In this case, the filter will be replaced and the unit will be checked for any problems.

Unit replacement: If the AC unit is determined to need a complete replacement, this will be the repair that is made.
How to Find a Reliable AC Repair Company
When it comes to your home, you rely on its cooling and heating capabilities every day. Not only do these systems need to work efficiently, but they must also be kept in good condition for your safety. Luckily, AC repair service is relatively easy to find and can be done by a variety of professionals.
Here are a few tips to help you find the best AC repair company:
first, do some research online. This will give you access to user reviews as well as company profiles. Look for companies with high ratings and check whether their services have been verified by an accredited organization.
next, ask friends or family who have used certain AC repair companies in the past. They may be able to recommend someone they know that has had positive experiences with the company in question.
finally, visit your local hardware store and look through the floor model section for air conditioning units. This is where you'll likely find cheaper options than those offered by larger chains like Home Depot or Lowes.
If you're having trouble keeping your air conditioning running, it's time to take a look at your AC system. While most repairs can be handled by a homeowner, some repairs may need the help of a professional. Here's what you need to know about AC repair services in Corona CA:
AC Repair Services in Corona CA
There are basically three types of AC repair services: furnace replacement, AC unit replacement, and system cleaning and maintenance.
Furnace Replacement
A furnace replacement is the most common type of AC repair service. If your AC unit is going out, or if you suspect that something is wrong with it, you might want to consider replacing it rather than fixing it. Replacing an entire furnace can be a big investment, but if done right, it'll save you money in the long run. Plus, having reliable air conditioning is essential in hot weather climates like Corona CA.
AC Unit Replacement
If your AC unit isn't working properly but appears to be okay physically, that might be cause for concern. A broken window motor or other small mechanical problems can lead to serious issues likeö overheating and extensive damage inside the home ó not to mention uncomfortable temperatures! In cases like these, an AC unit replacement may be the best option for you. Again, this could involve an expensive upfront cost but overall should save you money in the long run due to decreased energy costs and less wear on your equipment.
System Cleaning and Maintenance
Another type of repair service available for air conditioners is system cleaning and maintenance. This includes regular checkups of filters (every six months), checking ductwork for blockages or leaks (at least once every 12 months), and proper balancing/alignment of all components within the system (every two years). All of these measures will help keep your air conditioning running smoothly and effectively – which means less work for you when it comes to dealing with pesky summer heat!
Staying Safe During an AC Repair
When it comes to repairing an AC unit, it is important to take precautions to stay safe. Always wear protective gear when working around an AC unit, including a face mask, gloves, and a sturdy work surface. Additionally, make sure to disconnect the power to the AC unit before beginning any repairs. Finally, always follow all safety guidelines provided by your contractor or manufacturer.
Avoid Certain Areas of the House
hen it comes to AC repair, it's important to stay safe while the technician is working in your home. Here are a few tips to keep in mind:
Avoid areas of the house that are hot or cold. These areas can cause discomfort or even heatstroke for the technician.

Keep children and pets away from the repair area. They may be tempted to touch or climb on the equipment, which could lead to accidents.

If you smell gas, do not try to light a match or open any windows. Instead, call a professional immediately. Gases such as propane can be explosive and can cause serious injury or death.
Keep Children and Pets Away
During an AC repair, it is important to stay safe and protect yourself and others around you. Keep children and pets away from the work area so they do not get injured by debris or equipment. Wear proper safety gear including a respirator if necessary. Follow all instructions from your contractor or technician closely to prevent accidents.
When it comes to AC repair, it's important to be aware of the potential for mess and safety hazards. Here are a few tips to help you stay safe during an AC repair:
Have a designated area for the repair work area clear of furniture, boxes, and other objects that could fall on or get in the way.

Keep children and pets away from the work area.

Wear appropriate protective gear, including gloves, a face mask, and eye protection.

Use caution when moving heavy objects around the work area.

If the repair involves replacing parts or doing major repairs, call a professional contractor.
The Do's and Don'ts of an AC Repair
When it comes to repairing your air conditioning unit, do not be afraid to ask for help from family and friends. Doing the repairs yourself can be daunting and time-consuming. Here are some tips on how to ensure a successful repair:
amiliarize yourself with the basics of air conditioning repair before you start – this will help you avoid common mistakes made during repairs.

always use quality replacement parts when servicing your AC unit – cheap parts may not last as long or work as well as their more expensive counterparts.

remember that an AC repair is not just a matter of fixing something broken – make sure that all of your surrounding systems (lighting, ventilation, etc…) are in working order before starting any repairs.
Overall, it is important to be aware of the different aspects of AC repair in Corona CA before making a decision. By doing your research and knowing the different types of repairs available, you can be sure to find the best company for the job. Additionally, it is important to be safe during any repair process and to know the approximate cost of the repair.