STEADY AIR, INC. - RELIABILITY – INTEGRITY – COST EFFICIENCY
Many people believe that their heating system can take care of itself. This is a common error. A furnace's health and efficiency greatly depend on regular maintenance.
Steady Air, Inc.'s heating maintenance services will give your system the care it needs. No matter what make or model, our team can work on any system. We have trained our team to work on all brands and types of HVAC systems in Corona and surrounding areas.
Why is Furnace Maintenance Important?
Steady Air, Inc. suggests that your furnace is maintained annually by a professional HVAC company. The tune-up does more than just change the filter. It is a safety inspection performed by trained and certified hvac technicians. It will ensure that your furnace runs at its best all year.
Your heating system will lose about 5 percent of its original efficiency every year if it isn't maintained. Studies show that regular tune ups can extend the life of your heating system and recover any lost efficiency. If you take care of your heating unit properly, it will retain as much as 95 percent of its efficiency over the years.
Your heating system will work at its best if it is in top condition. This will increase your comfort and:
Reduces repair costs
Increase the life expectancy of your equipment
Improves IAQ for a better environment
Reduces your carbon footprint
… and so much more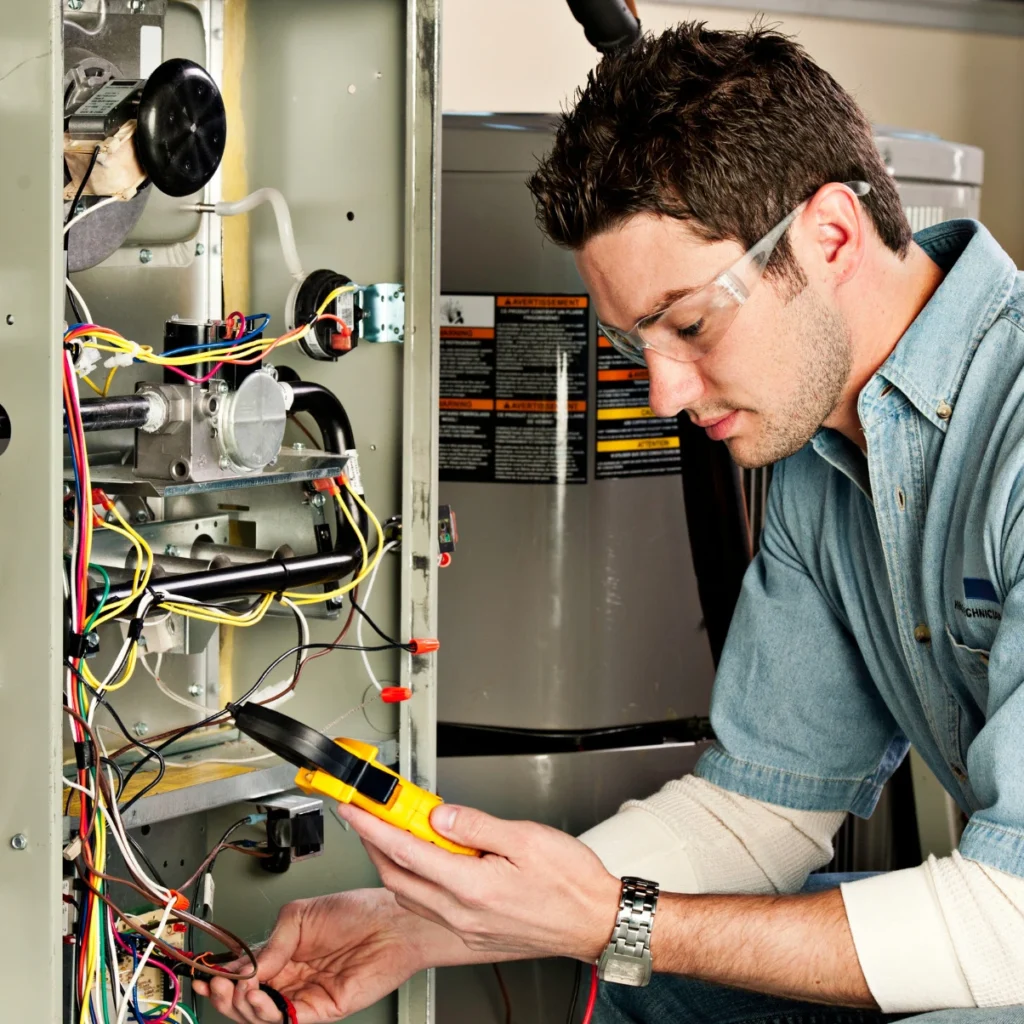 A neglected HVAC unit will be more likely to go out of commission. A lack of maintenance is responsible for 90 percent of all heating system breakdowns. If you experience any of these symptoms: unusual noises, smells, or inconsistent temperatures in your home or higher utility bills, call us. Our technicians can quickly diagnose the problem and fix it by providing a reliable and affordable heating solution.
Steady Air, Inc.'s Heating Maintenance
If possible, clean or replace the standard 1″ filter. Clean return air grill (homeowner must supply).
Carbon monoxide detection
Protect your family against deadly gas
For proper operation, inspect the gas valve
Gas appliance safety is ensured
For proper connection, visually inspect and check flue pipe
Confirms efficient and safe airflow from furnace
Examine electrical wiring and connections
This ensures that the correct and safe electrical current is drawn
Replace batteries or check thermostat operation
Validate proper programming that saves energy
If necessary, lubricate the motor
Adjust and clean burners
Verify the ignition system
You can be sure of a safe start
Visually inspect the visible ducting
Identify any airflow and leak problems
For proper operation, check the high limit switch
A vital safety feature
Check heat exchanger for visible cracks and holes
Proactively identify potential safety hazards
You may also be interested in indoor air quality equipment
Protects your home from dust and keeps it clean
For heating maintenance in Corona & surrounding areas, contact Steady Air, Inc.
Don't deal with the stress of cold nights. To ensure your heating system is in top shape for fall and winter, contact Steady Air, Inc. online. Or call (951) 407-9110. You can also take advantage of our other HVAC services!
Our Experience Speaks Volumes
Our furnace stopped working and with the cold weather coming and small kids in the home I needed someone who knew what they were doing. Rob was the technician who came to our house and he was courteous and professional. He was very informative and didn't mind me asking lots of questions. Overall, he was able to fix the issue and our furnace is working better than ever. Thanks Rob. Now we have a warm and comfortable home again.
Rob and his team have been amazing!! They have been so great to work with and we're able to work with our budget. I will only use them due to such a great start from the beginning!!
We had a power surge due to faulty Tesla equipment that blew out both of our ac units and thermostats attached to the units at which point we contacted Steady Air to take a look and help access and repair the damage. This tech who came out was well versed in dealing with what was going on diagnosed the problem and repaired it.
Rob was very professional and he was very attentive to when I had any questions . Always answered when I called and he is super reliable . Would recommend to anyone.